Admission Policy: Full-Time Courses 
Crumlin College of Further Education is a well-established College providing full-time & part-time courses. The College operates under the authority of the City of Dublin ETB. All enrolments are subject to the regulations and policies of the City of Dublin ETB and all applications received will be treated in a fair and equal manner.
College Admissions Policy:
All enrolments are subject to the regulations & policies (including Admissions Policy) of the City of Dublin ETB and the Crumlin College Admissions Policy. These are on display & available in the College. Places will be offered upon successful completion of interviews. This offer of a place will also be subject to all entry requirements of a particular course being satisfied in full. All applications received will be treated in a fair and equal manner. In exceptional circumstances, the College reserves the right to refuse enrolment.
Application Procedure: 
Applications can be made using our online application process from November to September.
 
Application Requirements:
Step 1 – Apply Online
All Applications are done using our online application service. The College application system is open 24 hours and you can apply at any time..
When you complete your application, you will receive an acknowledgement email with login details, username and password, for your new account on our college applications system. You will log into the college applications system regularly to manage your application to Crumlin College. Please note that your login details must be kept, by you, in a safe and secure place as they will be needed to access your account each time. 
Step 2 – Offer of a Place
All applicants receive a conditional letter of offer on the course they are applying for. Places are subject to availability and any specific course requirements being met. (Applicants to courses that require additional requirements will be contacted about the additional requirements.)
Step 3 – Pay a non-refundable deposit online to secure your place
All courses have a €50 registration fee and then a €100 fee for materials (If applicable...mostly for Culinary Arts, Beauty and Hairdressing) that is refundable in the second semester of the course.
Step 4 – Completing Registration and Upoading Documents
To complete registration, click on the Pay €50 Registration Fee button on the Crumlin College website to log in to the college applications system. Select the Personal tab (to upload photo) and the Documents tab to upload a copy of some or all of the following documents:
A suitable passport-style photograph, recently taken, for your student ID card
Passport or ID Card (with photo) to confirm your identity and D.O.B.
For school leavers, a copy of your Leaving Certificate Results when you receive them or a Statement of Results from your most recent academic course
Non-EU applicants should hold a Stamp 4 visa. Please upload your GNIB card or permission to work letter.
Your medical card clearly showing the number and the expiration date.
To protect your data, Crumlin College follows the Data Protection Policy and Protocols of the City of Dublin ETB.
Fees / Charges:
To pay the registration online, click on the Pay €50 Registration Fee button on the Crumlin College home page to log in to the college applications system. Select the Payments tab to make a payment.
Please contact our Main Office for advice and assistance on 014540662 / enrol@ccfe.cdetb.ie.
There are no tuition fees for Irish & EU Nationals. However, a registration charge of €50 is payable & where applicable, a deposit for course equipment. Students will be notified of the requirements in relation to textbooks, equipment or uniforms when they have been offered a place. Non-EU Nationals are charged fees as set down by the Department of Education & Science - details of these are available from the College.
Specific Entry Requirements:
There may be specific entry requirements for some courses and these are clearly outlined on this website.
Mathematics
Syllabus A, B or C accepted, except where otherwise stated.
Leaving Certificate Applied (LCA) is acceptable as an entry requirement on the majority of Courses, except where otherwise stated. 
English Language Test - Applicants who do not have English as their first language may be asked to take this test to ascertain whether they will benefit from participation on a particular course. This English Language Test will be in addition to the minimum entry requirements as outlined for each course.
Mature Students
Students are considered to be mature if they are 21 years of age or over. They must be 21 on or before 1 September in the year of entry. 
International Students
All of the courses in Crumlin College of Further Education are provided through English. Applicants whose first language is not English, will be required to demonstrate sufficient competency in written and spoken English prior to commencing their course. Before acceptance on to a course, International Applicants may be asked to take an English Language test organised by the College.
The following administrative arrangements also apply:
All international students must provide appropriate identification documentation.
All international students must demonstrate compliance with residency requirements of the Irish government.
EU nationals will be eligible for the same course charges as Irish students.
The College will not engage in any way in the process of visa applications. 
International Students who can access our Courses:
 EU citizens
Stamp 4 holders. 
Applicants who are in the international protection system who have permission to work are entitled to access VTOS programmes
Applicants who are in the international protection system who meet the eligibility criteria for the Student Support Scheme can avail of grants to fund their full-time PLC programme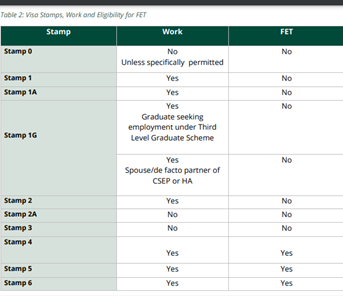 Students with Educational Needs
Crumlin College has a Social Equality Admissions Policy & welcomes applications from students with educational needs. The College will try to provide appropriate supports and services for all students accessing our courses, resources permitting. Therefore, students should provide information about any specific requirements necessary to successfully participate on a course.
V.T.O.S. Day Courses (Vocational Training Opportunities Scheme)
The College provides an opportunity for unemployed adults who are eligible under the VTOS Scheme to avail of any of the full-time day courses as per listings. Entry is subject to interview.
Support Services:
We have a wide range of support available to our students here in the college and are pleased to have services like the Open Learning Centre and Adult Literacy based on our campus.
The Opening Learning Centre (OLC)  provides basic computing classes to those who request it.
"The Adult Guidance Service is based in Crumlin College and offers free career guidance to adults in the D8, D10 and D12 areas who are returning to education.   
Adult Literacy - we are very lucky to have this wonderful service based on our campus and extra help can be provided to students who request it.
 We have a wide range of Support Services - i.e. supported learning, provision of I.T. equipment, Disability/Social Welfare support - VTOS/BTEA with lots of experienced personnel who can offer advice by appointment.
Career Guidance Service
We are lucky to be able to provide a Career Guidance service ot student at Crumlin College offering help with CAO and progresion to third level.