Culinarty Arts Studetns Discuss their Erasmus Trip 2023

Click on CC to see subtitles
Sports & Fitness Graduates
Adam Murphy
Emma Hoey, Sports Therapy 2014, 3rd Year BSc (Hons) Physiotherapy Student, Teesside 
When I was in school I knew I wanted to study Physiotherapy. However, after my Leaving Certificate I didn't get offered a place on a Physiotherapy course, instead I got offered a place on a Business course in DCU. After my first year in DCU I decided it wasn't what I wanted so I left and started looking at ways that I could apply to study Physiotherapy or Sports Therapy.
Whilst looking online I came across the two year Sports Therapy course in Crumlin College. I applied as this would enable me to apply to Physiotherapy courses once I had completed the course. I studied year 1 and 2 of the Sports Therapy course. I really enjoyed the subjects that were taught. There was a good mix of practical and theory classes which kept it interesting and all of the subjects were very relevant to the course. All of the teachers were brilliant. They all really knew their subjects so well and couldn't have done more to help me with anything throughout the two years. They were so helpful when it came to work that had to be done for the course but also when it came to applying for courses after Crumlin.
Crumlin had all of the resources required for the course and there was plenty of student support available. I really enjoyed student life in Crumlin College and made some really good friends. I am currently a final year BSc Physiotherapy student in Teesside University. Everything I learned in Crumlin has been so beneficial to me especially in my first year when it came to the Anatomy and Physiology modules and Massage. I thoroughly enjoyed my two years in Crumlin College and would definitely recommend it.
Dylan Cox, BSc Athletic and Rehabilitation Therapy student in Athlone Institute of Technology
I studied Sports Therapy. I really enjoyed it and enjoyed all of the subjects that were taught in the course. There was an even amount of theory classes and practical classes which made the course enjoyable and the subjects were also very relevant to the course. All of the teachers in the course were very helpful and very supportive and always pushed you to do your best. The teachers were also very helpful when it came to applying for courses after Crumlin College.
I really enjoyed my time in Crumlin College. I made some really good friends but I also learned a lot from the course and it gave me a good foundation of what Physiotherapy or Sports Therapy involves and it gave me a good head start heading into University. I am currently a first year BSc Athletic and Rehabilitation Therapy student in Athlone Institute of Technology. Everything that I learned in Crumlin College has been so beneficial to me especially in my first year when it came to the Anatomy and Physiology ,Massage and Sports Injury modules. I really enjoyed my time in Crumlin College and would definitely recommend this course if you are looking to go on and study Physiotherapy or Sports Therapy.
 

Noelia Palma-Garcia 
I am an adult student from Spain who had a goal in life, being a massage therapist. I searched in Google for different courses and I found Crumlin College. I thought it was impossible for me but I got a place there. I can tell you my experience was lovely, classmates and teachers!! It was hard for me in a second language but everyone helped me and made it easier for me to achieve my goal. The teachers are willing to help you all the time and make  all the subjects enjoyable. I couldn't say anything bad about my experience in Crumlin College. I hope my testimony helps people to go ahead in the right direction. Thanks!
Joanne Hassett  (Fitness Instruction & Health Studies/Personal Training)

I am a mature student and I went back to college to follow my dream and to get my qualification for the job I really want. I studied Fitness and Health. I learned so much from the teachers, they really pushed me to my full potential. I am now a fully qualified gym instructor and the course  has given me back my confidence and allowed me show my true potential. It doesn't matter how old or young you are you should always go for a job you will love . The teachers and mentors are fantastic at Crumlin College. My plan after second year is to progress with advanced entry to IT Tallaght.
Craig Kelch, Sports Therapy
I feel like the summer introductory course to Anatomy & Physiology with Noreen helped me greatly. I was out of education for nearly 10 years and even though I felt the course was the right step for me, I needed to be sure I was able for the demands of college life and work too. I have always been into fitness and sports but started to look at it from a different perspective when I dislocated my shoulder playing a match.  When returning back to soccer I dislocated the other one and wanted to know why this happened and how I could prevent it from happening in the future.
Throughout last year I particularly enjoyed learning anatomy & physiology, as well as massage, and I also enjoyed swimming and first aid. I feel like the course last year has laid the foundations of my future career and has given me a great head start on my 3rd level education.

Darragh Travers,  Sports Therapy
I went to study Sports Therapy full time at Crumlin College last year as a mature student. After finishing the first year I am now progressing into the second year of the course. The course itself has helped me a lot with getting back on track with my education as I hope to progress into a level 8 course after finishing the second year. The teachers are extremely helpful with anything you need. The course goes into great detail about the human body and has a range of subjects and qualifications at the end of it. I most enjoyed anatomy and physiology. Although it is a tough subject, it was explained extremely well to the whole class. At the end of the year you become a fully qualified gym instructor and lifeguard which is great.  
_______________________________________
Tourism Graduates
Mary Aoife Ong,Tourism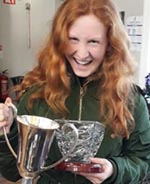 I really enjoyed my time as a tourism student with Crumlin College. The College environment was really nice and positive and all the teachers were so approachable. I really liked how we had a variety of subjects such as French, Business and Event Production as well as Tourism based subjects - it gave me a taste of everything and has helped me pick a career path for the future. The class sizes are nice and small resulting in students bonding really well together and receiving more individual attention from teachers. Our year head Nora was fantastic at providing career opportunities, class trips and excursions and the support and guidance we received from all our other teachers was excellent. The year with Crumlin College has prepared me to continue my studies and I am now planning to study Event Management in DIT. I would highly recommend the college to anybody. You'll not only learn loads but will honestly have great fun along the way!
Jade Lau, Guinness Employee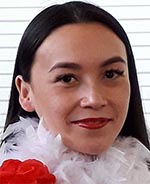 I'm delighted to let you know  that I got the job at Guinness, in the section I wanted.  I'm over the moon!  Thanks for all your help...I couldn't have done this without the College's help throughout last year.
Jack Cassidy, Apprentice with Dalata Hotel Group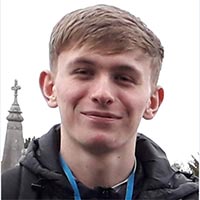 After completing the Hospitality with Tourism course, I'm officially doing an apprenticeship with Dalata Hotel Group.   I'm working in the front office department in a city centre hotel. Later this month I'll be training in back of house functions (most likely in the Reservations Department first then on to the Revenue Department). None of this would have been possible if it wasn't for Crumlin College. You seriously helped me throughout the two years I have studied at the college and I can't tell you how much I appreciate it.

___________________________
Beauty Graduates
Gbemisola Samuel,  ITEC and QQI Graduate 2019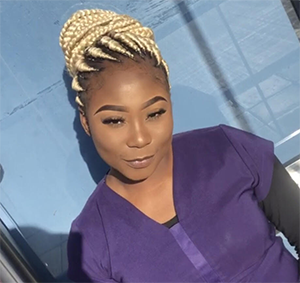 My name is Gbemisola Samuel and I was a past student in Crumlin College of Further Education, I studied and completed a two year course in Beauty and Retail Sales, there you learn every aspect in the beauty industry from Makeup, Spray Tanning, Gel Nails, Waxing, Facials and so much more, the College was very good for organising work shops. I chose this career path because it's enjoyable, very sociable meeting different people and working with different people and because I always had a passion for all things beauty, and it helps more once that passion and love is there. The course training is theory and practical based it can be very intense as it's all hands on and needs full attention like anything else . With the information and facts that your taught and you learn, in the beauty industry especially with this course your always learning and finding out new things, ideas, techniques as the Beauty industry is always growing.I adored my course and was quite upset that there was only two year I said to both of my amazing tutors I had that "I don't want to leave to work just yet if there was a third year I would do it without thinking twice" I loved every moment and my form or group for both years were the nicest and funniest group of girls ever, Staff tutors and ladies who manage the college are amazing and so helpful I would definitely recommend this course to anyone who has a passion for Beauty! and you don't ever need to worry about competition because there's always room for everyone everyone's taste and work is unique. I am now working full time in Dundrum in a salon as a beautician. 
Andrea Farley BRSA & Fashion Styling
Natasha Glynn, Graduate 2015, now Assistant Manager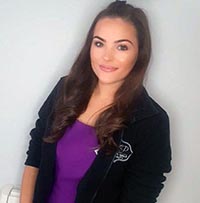 My name is Natasha Glynn. I attended Crumlin College for 2 years doing the Beauty Therapist course and graduated with ITEC and FETAC qualifications in 2015. My 2 years at Crumlin college were nothing but amazing memories! Everyday was a school day and we learned something new each week which kept the course interesting, there were so many practical subjects and theory. My tutors were more like friends during our classes, always up for a laugh but when it came down to exam season they wanted us all to do our best and did nothing but encourage us. I can't stress enough please do your case studies on time and take all theory and practical classes serious!  It will stand to you during the exams.
Since I left college I have worked in a few different salons, even a skin care clinic. My qualifications helped me try a bit of everything until I figured out what I really loved. Your choices are not limited doing this course you can do anything and go anywhere! Even when I left college I always kept up to date with new beauty treatments and constant training. I even entered nail tournaments and placed third. 5 years on and I am now an assistant manager at AP Fashion Nails and love my job! This really is the career for me and I thank Crumlin College and all the tutors working there for that! 
Margaret Payne, Beauty Therapist, Diploma in Beauty Therapy
My name is Margaret Payne. I was a mature student. My background was in hairdressing & cosmetic sales for several cosmetic houses both in Ireland and Los Angeles.
I studied the Diploma in Beauty Therapy in Crumlin College. The teachers were excellent. They went above and beyond to help with my classwork, both theory and practical elements. Their knowledge and teaching techniques were fantastic. The College provides excellent resources to all students and there is support available whenever it is needed.
The two years at Crumlin College were the best days ever! I truly enjoyed every part of it. Being a mature student I was apprehensive at first but I was made feel very welcome. I would very much recommend Crumlin College no matter what age. It has so much to offer. I am now starting my own business, running a beauty room in a hair salon.
Jessica O'Keeffe, CIDESCO, ITEC, QQI Qualified Beauty Therapist 2019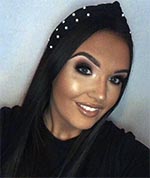 I attended Crumlin college for the past two years studying beauty therapy. I could not have loved my experience more!!. From the get go the tutors were nothing but amazing and so helpful to me, I couldn't have done it without their constant help and support throughout the two years. They are an asset to the college and I can't thank them enough. The course itself is full of amazing classes and workshops. One of my favorite classes was our skin classes and we used the most amazing products such as Thalgo and Dermalogica. My overall experience in Crumlin College exceeded my expectations and I now work in a amazing salon and it's thanks to the qualifications which I gained while doing this course, I'm going to really miss it ❤.


Orlagh O'Reilly, Beauty & Retail Sales
'When deciding to further my education I followed my heart and made the decision to go into the beauty industry. I applied for "Beauty and Retail Sales" in Crumlin College and was delighted to be accepted.  The course was challenging at times but the teachers are friendly, knowledgeable, passionate and talented and were always there to support me in reaching my full potential. Between the education I received in class and the hands-on experience, I graduated with the skills and confidence to further my career in the beauty industry. Not only did I learn so much but I also grew as a person, making many friends along the way, to this day we still support each other to learn and grow. I can honestly say that Crumlin College laid the foundation for me to become the successful beauty therapist that I am today. - Orlagh O'Reilly, Looking forward to collaborating with Crumlin Collage soon.
_____________________________________
IT Graduates
James White, IT Administrator, CDETB AES, BSc in IT Management
I did my Leaving Certificate in 2004. I decided to take a year out to work in the retail industry and then I started in Crumlin College in 2005/06 undertaking the Computer and Network Technician course.
I was made aware of the courses available at Crumlin College through the staff at the Open Learning Centre. They recommended that I undertake a technical computer course as they felt my aptitude leaned towards that direction as opposed to the many other courses that are available at Crumlin College. I enjoyed every aspect of the course. I was pleasantly surprised at the depth and diversity of topics covered within each subject. The computing and networking industry offers such a massive range of employment opportunities it can be daunting trying to determine which path is the right one to take, but the range of subjects on offer gave me such a detailed insight that I used my time to discover where my interests and abilities would suit me best when the time to progress arrived.
I found the teachers on the course extremely approachable, supportive and knowledgeable on all the varied aspects of the subjects that they taught. Additionally, the teachers provided me with excellent hypothetical and practical experience scenarios that left me with the utmost confidence when searching for employment in the computing industry. Each course is also provided with a dedicated class tutor to give guidance in relation to any aspect of the course or to liaise with any course teacher on the student's behalf.
The College also provides wonderful services such as the Open Learning Centre for any student that feels they may need basic or even program specific computer training to act as an aid or supplement to their course, Adult Literacy, Adult Guidance, Grants Officers, and Counselling Services for students who may be struggling with the various challenges of college life. Whilst a student at the College, if I needed additional research material, I found it to be of enormous benefit that a large part of the course material could be inspected further in the resource room and the books therein. It was also of massive benefit to have access within the resource room to any stationary needs as they arise.
The College has such a strong ethos for camaraderie amongst the student body that I found it easy to connect with my classmates. The College also offers such a great range of student organisations, sports clubs and social events that by the end of the second semester I felt right at home in Crumlin College. Directly after I left Crumlin College I got immediate employment within the telecommunications industry for one of Ireland's leading mobile networks. Additionally, I was able to pursue a degree in IT Management at IT Tallaght on a part time basis, which I achieved.
I would definitely recommend Crumlin College to any person, of any age, looking to go into any field that the College provides courses on.
Conor Geoghegan, BA Creative Digital Media, TU Dublin
My experience within Crumlin College has been more than positive. The course I completed was Advertising and Graphic Design, which is now leading me to study Creative Digital Media at TUD. The course itself is very diverse and has left me with skills in areas such as Web development, the use of Photoshop etc. 
The teachers are fantastic, with extensive knowledge in this field. They helped me along every step of the way.
I would recommend anyone looking to study Advertising or Graphic Design to apply for this course, as it will give you all the tools and skills you need, going forward into third level. 
 

FASHION GRADUATES
Sarah Wells FMM
Rachel Donohue FMM
Chloe FMM